Operational Info
Number of Customers
A&B Courier has over 4800 active clients all from varying types of business.
Vehicle Types

A&B Courier has a fleet of cars, hatchbacks, and vans, including cube vans, straight trucks and tractor trailers servicing our customers on a daily basis. Other vehicles are available through our expansive network of associates.
Price Quotes
You will automatically receive a price quote when placing regular orders for pick up or delivery. For special orders you will receive a price quote within 60 minutes.
Order Numbers
Each order is automatically assigned a control number which is used to track your shipment.
Courtesy Calls
The A&B Sales team regularly makes courtesy calls to keep in touch with our valued customers.
Specialized Customer Requirements
Specialized or specific arrangements required by our clients on a regular basis can be handled efficiently by the computer by flagging the account with special instructions that will appear on each order.
Area of Service
A&B Courier can arrange shipping anywhere in the world.
Hours of Operation
Customer service representatives are available from 8:00 a.m. to 5:30 p.m. EST, Monday to Friday excluding holidays.
Drop off Hours
Pick up and drop off hours are from 7:15 a.m. to 6:30 p.m. EST Monday to Friday excluding holidays.
Holiday Schedule
New Year's Day
Family Day
Good Friday
Victoria Day
Canada Day
Civic Holiday
Labour Day
Thanksgiving
Christmas Day
Boxing Day
Cutoff times for Messenger Deliveries
Sameday 12:00 p.m.
4 hour 1:00 p.m.
Rush 2:30 p.m.
Direct 4:00 p.m.
Double direct service is available after 4:00 p.m.
Filling Out a Waybill
Information needed to complete an A&B Courier manual waybill.
For orders placed online a waybill will be automatically generated.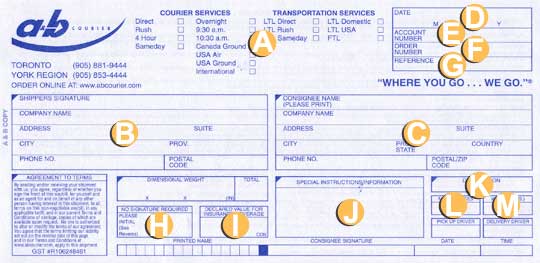 Service type
Complete address of pick up location with the shippers signature
Complete address of destination location
Date
Client account number the shipment is to be billed to
Order number given by the CSR when the order was placed
Reference number only if the customer requires their file or P.O. number to appear
No signature required box is to be initialled if the parcel can be delivered without obtaining a signature
Insurance if required
Any special information that the A&B delivery driver may need
Description of delivery package
Number of pieces being shipped
Weight of total shipment
Invoicing Options
A&B Courier offers weekly or semi-monthly invoices. These invoices can be sent via fax or email.
View sample invoice
Credit Applications
A&B Courier offers payment plans based on your service needs and required credit. There are three different payment options to choose from. The Pre-Authorized Credit Card plan charges your credit card 30 days after the billing date on your invoice received electronically. The Pre-Authorized Debit plan, electronic invoices issued on the 15th of the month are debited from your bank account on the 7th of the month following. Electronic invoices issued on the 30th of the month are debited from your bank account on the 21st of the following month. With the standard Credit Application Form, payments made by cheque are due upon the receipt of the electronic invoice. Click here to determine what options would best suit your needs.

Cheque pick up
A&B Courier offers to its clients at no charge, pick up of payments for their A&B Courier accounts. Arrangements can be made by calling the office or emailing admin@abcourier.com when the payment is available.
Reminder Notices
If your account goes beyond the terms set out by A&B Courier, you will receive reminder notices. These reminder notices will have all of your outstanding invoices listed in a statement format at the bottom of the page. These letters are automatically generated by the computer and sent via email or fax. Account suspension automatically occurs when an account has surpassed its terms.

Statement of Account
Re: Statement of Account #: 12345

Dear Customer,
Please find attached your A&B Courier statement as a PDF file. Thank you for your business.
Sincerely,
Account Receivable



Reminder Notice
Re: Overdue Account Balance #12345
Dear Customer,
Just a reminder that the invoice(s) below remain outstanding. Those highlighted in red require immediate attention. To avoid interruptions in service please ensure your payment reaches our office within 3 days.
Payments can be picked up from your office at no cost to you or we offer pre-authorized Visa, debit and online payments.
If you have already sent your payment, please accept our thanks and disregard this notice.
Sincerely
Account Receivable
Please click on the invoice number to open the invoice in a pdf format


Final Reminder Notice
Re: Suspension of account #12345
Dear Customer,
Unfortunately your account remains outstanding and your service has been suspended until payment is received for all past due amounts.
Please contact our office to make payment arrangements.
Regards,
Account Receivable